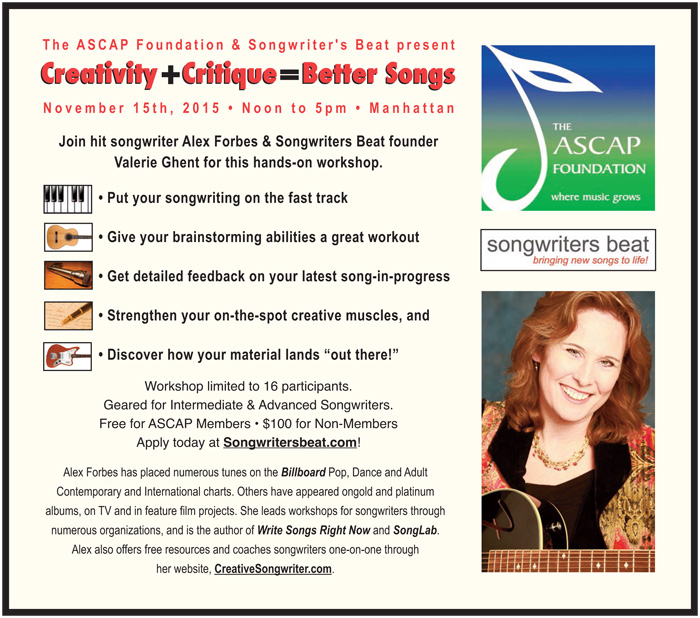 Songwriters Beat & The ASCAP Foundation Present
"Creativity + Critique + Better Songs"
Songwriting Workshop with Alex Forbes
Sunday, November 15th, 2015
Put your songwriting on the fast track! 
Give your brainstorming abilities a workout
Get detailed feedback on your latest song-in-progress
Strengthen your creative muscles & see how your material lands "out there!"
All committed writers are invited to join hit songwriter Alex Forbes & Songwriters Beat founder Valerie Ghent for this hands-on workshop.
Geared for Intermediate & Advanced Songwriters
FREE for ASCAP Members • $100 for Non-Members
Manhattan location
Workshop limited to 16 participants
______________________________
Alex Forbes has placed numerous tunes on the Billboard Pop, Dance and Adult Contemporary and International charts, including the smash singles "Don't Rush Me," "Nothin' My Love Can't Fix," and "Too Turned On."  Others have appeared on gold and platinum albums, TV and feature film projects including the Denzel Washington movie Déjà Vu. She leads workshops for songwriters through numerous organizations, and is the author of Write Songs Right Now and SongLab. Alex also coaches songwriters one-on-one through her website, CreativeSongwriter.com.