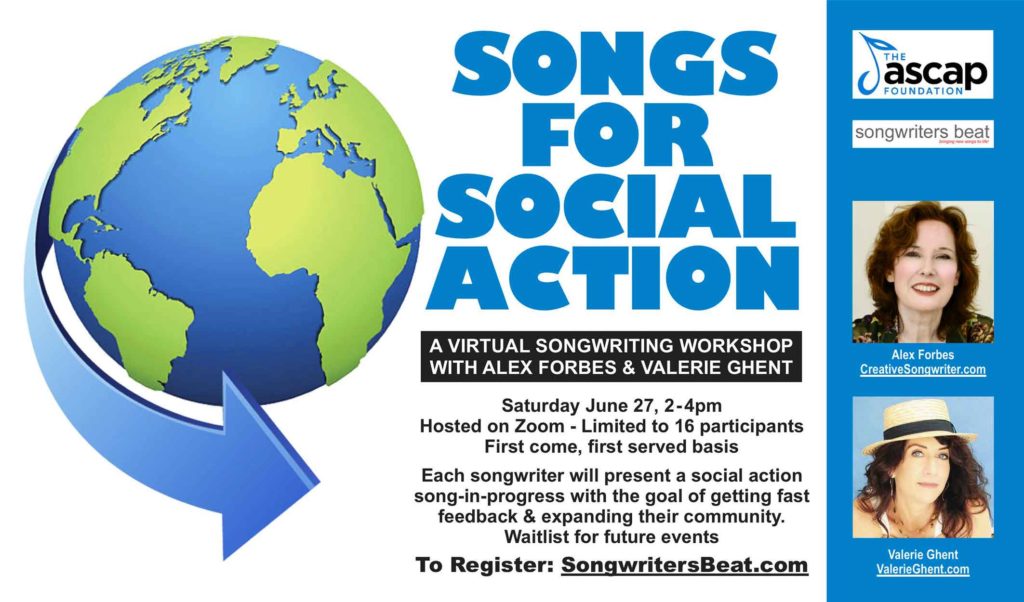 Songs for Social Action
Virtual Songwriting Workshop w/ Alex Forbes & Valerie Ghent
Great songs have the power to uplift, unite & inspire humanity.
Waves of heightened awareness and demands for change are sweeping across the globe. The world needs your songs of social action, now! Join us on Zoom and bring your brand-new social action song, and together we can change our world for the better.
Saturday June 27, 2020
2pm-4pm EST

Hosted on Zoom – Limited to 16 participants
First come, first served basis
Each songwriter will present a social action song-in-progress w/ the goal of getting fast feedback & expanding their community
Waitlist for future events
Alex Forbes bio: With numerous Billboard-charting singles, over 150 releases, and millions of album sales under her belt, Alex Forbes exudes a contagious passion on the subject of songwriting. Her material has found a home on major and indie labels, feature films and TV in the U.S., Europe and Asia. Founder of the top songwriting coaching site CreativeSongwriter.com and author of the inspirational guide Write Songs Right Now, Alex has led courses and workshops for NYU Steinhardt, the ASCAP Foundation and many other organizations. Her most recent release, "I Dance My Dance," is featured on the new album by three-time Grammy Award-winner, Nile Rodgers.  creativesongwriter.com

Valerie Ghent bio: Powerhouse recording artist Valerie Ghent is a New York singer, songwriter, keyboard phenomenon who wows audiences with her emotive, evocative voice, piano chops to match, and "soul-stirring, uplifting songs full of vitality and joy."  Valerie has released five albums, including Day to Day Dream, which launched her #1 hit song on iHeart Radio, Love Enough for a Lifetime. Valerie's album Velours was named Soul Tracks Top 50 Albums of 2016 and launched hit song & video, New York City Streets, hailed by critics as a "New Anthem for NYC".  Valerie tours and records in France, her popularity in Europe brought the release of The French Sessions, her first album on a French label, and her single "Feelin Alright" hit #1 on Jazz Radio France.
Founder of Songwriter's Beat in 2000, Valerie is longtime keyboardist, vocalist and recording engineer with music legends Ashford & Simpson, and has performed/ recorded with music royalty Nina Simone, Roberta Flack, Dr. Maya Angelou, Billy Preston and Deborah Harry (Blondie). valerieghent.com