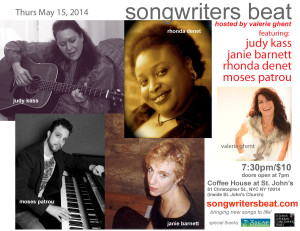 This month's Songwriter's Beat features outstanding songwriters Judy Kass, Janie Barnett, Rhonda Denet and Moses Patrou.
Hosted by NYC singer-songwriter Valerie Ghent.
Join us!
Coffee House at St. John's
81 Christopher Street
NYC NY 10014
7pm doors, 7:30 show
$10 door – proceeds to artists
Our special thanks to the ASCAP Foundation!